Horizon
Cyber Attack - The Day the NHS Stopped
A few weeks ago, the National Health Service was hit by a widespread and devastating cyber attack - Horizon tells the inside story of one of the most challenging days in the history of the NHS. On the morning of 12 May the attack started. Appointment systems, pathology labs, x-rays and even CT scanners were infected - putting not just data but patients lives at risk, and on every screen a simple - some may even say polite - message appeared. 'Ooops, your files have been encrypted!' But what followed was far from civilised. It was very clear that all the data on an infected machine was now scrambled and only the hackers could unscramble it. For a price - and with an extra twist - after a few days the ransom money doubled, and if nothing was paid within a week, the hackers threatened to destroy all the data - forever.
Clips from this programme

Introduction: NHS Computer systems under attack from a Computer Virus, WannaCry Cyber ransom attack by hackers, Appointments and Operations cancelled, CT body scanners disabled: Dr Kevin Fong (University College London Hospital)
Duration: 03:44

WannaCry Cyber ransom attack by hackers: Point of Origin of the outbreak and the NHS attack. Baltimore, Maryland, USA, Harold Martin (Contractor to US government intelligence): 50TB of stolen data, the Shadowbrokers, NSA hacking tools for sale, Eternal Blue, Windows 7 (Martin Kleczynski, CEO Malwarebytes) (Ross Anderson, Professor of Security Engineering, University of Cambridge)
Duration: 03:28

WannaCry Cyber ransom attack by hackers: 1 month before: Cyber weapons including the NSA 'Eternal Blue' left online for free (Cal - Cyber criminal, credit cards ID now). Wannacry was developed with infection now only a matter of time running a Cyber-security firm)
Duration: 04:43

WannaCry Cyber ransom attack by hackers: Outbreak, 12/05/2017. Marcus Hutchins malware code tracker. Patients waiting for planned NHS surgery, a worm was in the NHS. Live map of infections across the world (Martin Kleczynski, CEO Malwarebytes), hospitals under attack, contingency plans, operations cancelled
Duration: 07:35

WannaCry Cyber ransom attack by hackers: Analysis: Marcus Hutchins & Cal Leeming (Cyber Security Expert) using virtualisation software and internet simulation to examine the malware & worm across an infected LAN and the internet. Vulnerable PCs and networks
Duration: 05:19

WannaCry Cyber ransom attack by hackers: Propagation and contingency plans in the NHS, CT body scanners /radiology for A&E to distinguish stroke types (Dr Navin Ramachaandran, University College London Hospital). The infection spread to GP surgeries. N3, the NHS's Broadband network unaffected, Windows 7 machine affected, though
Duration: 06:56

WannaCry Cyber ransom attack by hackers: Payment by Bitcoin (Sarah Meiklejohn, University College London, UCL)(Mikko Hypponen, Chief Research Officer, F-Secure), use in online crime with Crypto currency, block chains. Attribution is possible when bitcoins are spent
Duration: 06:05

WannaCry Cyber ransom attack by hackers: Pay the ransom or not? Moti Cristal negotiation with cybercrime attackers. APT28? Breach advice. Extortion or murder if the NHS has been attacked
Duration: 05:24
WannaCry Cyber ransom attack by hackers: Stopping the spread: Marcus Hutchins spots a referenced un-registered domain in the malware: The kill-switch had been found. Backup of data loaded and NHS back online
Duration: 02:57

WannaCry Cyber ransom attack by hackers: Looking at the infection and the fight against it, this time. Cyber security conference suggest more IT support and spending on IT security is needed in NHS (Anouk Vos, Cyber Security Lead, Revnext). Other infrastructure attacks in a Cyber War? (Raj Samani, Chief Scientist, McAfee)
Duration: 04:14

Cyber Attack by hackers: Everyone at risk, our homes and our connected home devices (IoT, Internet of Things): Wireless network key hacking from a wifi kettle! Hackable doll made to swear, Holding home smart thermostats to ransom, NHS and healthcare, IoT, Internet of Things & Bluetooth pacemakers
Duration: 05:38

Cyber Attack by hackers: Conclusions. The NHS is ready for next time
Duration: 01:21
Horizon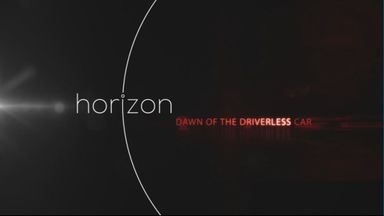 Dawn of the Driverless Car
First broadcast: 29th June 2017
Duration 58:59
The car has shrunk the world, increased personal freedom and in so many ways expanded our horizons, but there is a flipside. Fumes from car exhausts have helped to destroy our environment, poisoned the air we breathe and killed us in far more straightforward ways. But all that is going to change. This episode enters a world where cars can drive themselves, a world where we are simply passengers, ferried about by wholesome green compassionate technology which will never ever go wrong. And it is almost here. Horizon explores the artificial intelligence required to replace human drivers for cars themselves, peers into the future driverless world and discovers that, despite the glossy driverless PR (and assuming that they really can be made to work reliably), the reality is that it might not be all good news. From the ethics of driverless car crashes to the impact on jobs, it might be that cars are about to rise up against us in ways that none of us are expecting.