Making the Most of the Micro
5. Keeping a Record
The second series of The Computer Programme: 5: Keeping a Record. Keeping information so that you can search for it in any way you want is one of the most important things you can use a micro for. But the information could equally well be from a large database and reached by using an ordinary telephone line. Ian McNaught-Davis looks at the fundamental principles behind the idea of a data base and begins his explanation in the BBC's gramophone record library, among , among 1,000,000 records. Studio director PATRICK TITLEY Producer DAVID ALLEN
Clips from this programme

Peter Clayton the host of Radio 3 Jazz Requests explains how he uses the old card-based BBC record library catalogue to find a specific recording from over 1 million in the music archive. By comparison, Mac shows a computer database can do the same job much more quickly but only for a small number of entries - because of limited memory. He explains the fundamental principles of any database - fields, files and records.
Duration: 04:33
Topics:

Mac uses a home micro to create a database of people's birthdays explaining the principles of creating an array.
Duration: 06:12

Mac shows how to use a more sophisticated commercial database package which allows different kinds of searches.
Duration: 05:46

5 and 8 inch floppy discs allow random access to stored information (unlike cassette tape) and are needed to hold more data than the computer can hold in its own memory, but they have their limitations.
Duration: 00:28
Topics:

Catherine Robbins visits the British Waterways control centre in Rickmansworth to see how the waterways authority manages the limited water supply by using a large database which contains many years' worth of boat movements, held on a Winchester (a hard disc drive).
Duration: 02:47
Topics:

Mac demonstrates a Winchester and other disc drive arrays to hold more data - enough to hold all the information on the BBC's record library.
Duration: 00:47
Topics:

To access even more information, Mac uses a telephone and acoustic coupler to access the huge New York Times database, refining a particular search down to a single record.
Duration: 02:59
Making the Most of the Micro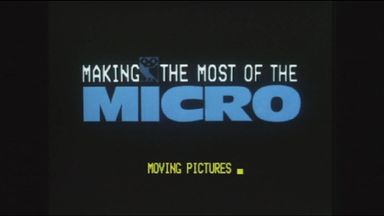 9. Moving Pictures
First broadcast: 7th March 1983
Duration 24:06
The second series of The Computer Programme. 9: Moving Pictures: Almost nightly on our TV screens, in programme titles and credits, we see sophisticated computer graphics, including animations. With the help of Ian Trackman, a professional software writer, Ian McNaught-Davis investigates the extent to which the personal microcomputer can achieve these effects.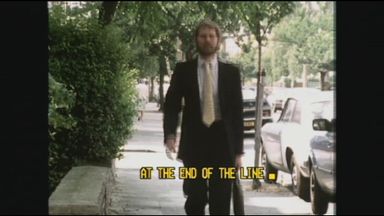 10. At the End of the Line
First broadcast: 14th March 1983
Duration 24:19
Last of the present series of The Computer Programme. 10: At the End of the Line: Someone, somewhere ... might have a message for you or some information you might want, or some computer software you could use. Getting 'Telesoftware' could involve using the telephone line or your television aerial. Ian McNaught-Davis and John Coll look at the use of the micro in communications. If you have got a BBC microcomputer, have a cassette tape-recorder with a microphone ready to receive an end-of-series message. Studio director MIKE COCKER Producer DAVID ALLEN