Micro Live
18. Series 3, Episode 18
With Fred Harris and Ian McNaught-Davis. The Epcot Center in Florida is next door to Disneyworld, but it's not just there for entertainment. It was the last great dream of Walt Disney and it's designed to give the visitors who flock through it every day an image of past, present and future. Micro Live takes a look 'backstage' at the computers in control. The technologies of computerised graphics, text processing and printing are being brought together in a new way that allows almost anyone to do their own desktop publishing. Micro Live assesses the competing systems that claim to turn a home micro into a mini Fleet Street. Studio director DAVE THOMAS Producers PETER BRATT. TERRY MARSH Series editor DAVID ALLEN
Clips from this programme

Liquid crystal displays and built in hard drives are making PCs ever more portable. Fred compares the latest models.
Duration: 04:36
At Disney's EPCOT Centre in Florida computers control everything, sometimes from miles away and now connected with optical fibres?
Duration: 11:56

By adding their latest laser printer to the Macintosh computer, Apple put publishing onto the desktop.
Duration: 03:09

Desktop Publishing is now faster and cheaper. Leading commentator Graham Hallett shows Mac just how versatile it can be.
Duration: 02:18

Desktop Publishing packages are now available for the PC as well as the Mac. How do you choose the best combination of hardware and software for you?
Duration: 02:11

Desktop Publishing lets anyone create documents but it doesn't turn them into designers and the manuals don't always help.
Duration: 03:41
Micro Live - Series 1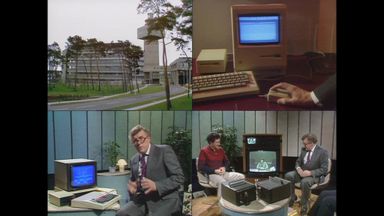 Episode 5
First broadcast: 8th February 1985
Duration 49:25
On the road! This month's programme comes live from the British Telecom Research Laboratory at Martlesham Heath, near Ipswich. Ian McNaught-Davis looks at some of the latest developments in telecommunications, and talks to John Alvey , Chairman of the Alvey Committee and Engineer-in-Chief for BT. American reporter Freff joins in from New York on a new 'teleconference' system, and he has the latest micro news from America. And Lesley Judd and John Coll report from the recent Which? Computer show in Birmingham. Producer PATRICK TITLEY Series producer DAVID ALLEN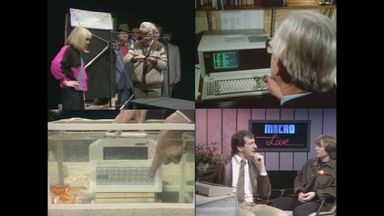 Episode 6
First broadcast: 8th March 1985
Duration 49:18
with lan McNaught-Davis and Lesley Judd. In this, the last programme of the current series, Lesley investigates new applications for the laser disc. Mac challenges a robot at its own game, table tennis. Fred Harris reviews some portable and lap-held computers. And a look at the difficult job of live subtitling... Director TERRY MARSH Series producer DAVID ALLEN