Micro Live
6. Series 3, Episode 6
With Lesley Judd and Ian McNaught-Davis. Twelve-inch laser discs had a short, unsuccessful life for domestic video, but the smaller compact discs have really taken off. Now discs similar to CDs can be used to store data for computers. But the larger video discs are making a come-back in 'interactive' systems, such as the one launched this week by the BBC's Domesday Project and are potentially ideal for education and training. If primary schools don't yet have video disc players at least most of them do have a computer. British educational software leads the world, but lack of teacher training and resources may mean it is simply not used. Kenneth Baker , Secretary of State for Education, spearheaded the introduction of computers in schools when he was Minister for Information Technology. Now he faces his critics over the lack of follow-up. Studio director DAVE THOMAS Producers TERRY MARSH and PETER BRATT Series editor DAVID ALLEN
Clips from this programme

Optical storage is taking off. CDs can now store data as well as music. The twelve-inch laser disk offers interactive video. How does an optical disk store a whole encyclopaedia?
Duration: 05:37

This week the BBC has launched its Domesday Project with information, pictures and sounds covering the whole country on just two twelve-inch disks. Project Editor Peter Armstrong tells Lesley why it is so significant.
Duration: 10:38

Read/write Laser cards can hold our entire medical records. They will soon hold far more but Mac wonders who would ever need 200Mb of data?
Duration: 06:00

In Northamptonshire, BBC computers are revolutionising the teaching of adults with learning difficulties; writing the special software is provding employment for physically disabled programmers.
Duration: 05:14
Micro Live - Series 1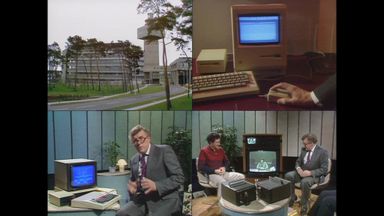 Episode 5
First broadcast: 8th February 1985
Duration 49:25
On the road! This month's programme comes live from the British Telecom Research Laboratory at Martlesham Heath, near Ipswich. Ian McNaught-Davis looks at some of the latest developments in telecommunications, and talks to John Alvey , Chairman of the Alvey Committee and Engineer-in-Chief for BT. American reporter Freff joins in from New York on a new 'teleconference' system, and he has the latest micro news from America. And Lesley Judd and John Coll report from the recent Which? Computer show in Birmingham. Producer PATRICK TITLEY Series producer DAVID ALLEN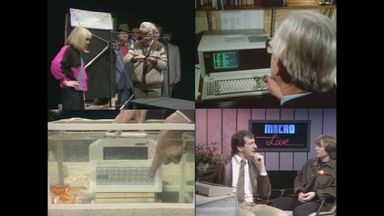 Episode 6
First broadcast: 8th March 1985
Duration 49:18
with lan McNaught-Davis and Lesley Judd. In this, the last programme of the current series, Lesley investigates new applications for the laser disc. Mac challenges a robot at its own game, table tennis. Fred Harris reviews some portable and lap-held computers. And a look at the difficult job of live subtitling... Director TERRY MARSH Series producer DAVID ALLEN