Micro Live
3. Series 3, Episode 3
The weekly look at information technology - with Lesley Judd and Fred Harris. Choosing a word processor? Advice on how to get what you really need. Are computers going to the dogs? Harringay stadium is one of the few tracks which haven't replaced their electromechanical tote system with a computer. And tomorrow's computers, will they run on laser light rather than electricity? Studio director DAVE THOMAS Producer PETER BRATT Series editor DAVID ALLEN
Clips from this programme

How a 'dedicated' electronics board controlling a drag racing car aiming to beat the 409 mph land speed record differs from a personal computer. Programmed from a BBC Micro, it can just as easily control a robot.
Duration: 06:34

Strathclyde Fire Brigade have introduced the most advanced call control centre in Britain using a networked system. The computers in fire engines are based on the Z80 chip - not state of the art but proven technology. Meanwhile, London is still waiting.
Duration: 04:36

A look at word processing from this week's best selling £17 package for home micros to a £6000 dedicated system. Lynn McTaggart, editor of Which Computer, helps Lesley to understand the choices.
Duration: 08:18

Herriot-Watt University's Professor Desmond Smith explains the exciting potential of optical computing, where laser light speeds up switching and many light beams make parallel processing ideal for image processing. Practical applications are about ten years away.
Duration: 08:10
Micro Live - Series 1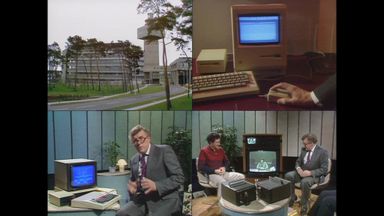 Episode 5
First broadcast: 8th February 1985
Duration 49:25
On the road! This month's programme comes live from the British Telecom Research Laboratory at Martlesham Heath, near Ipswich. Ian McNaught-Davis looks at some of the latest developments in telecommunications, and talks to John Alvey , Chairman of the Alvey Committee and Engineer-in-Chief for BT. American reporter Freff joins in from New York on a new 'teleconference' system, and he has the latest micro news from America. And Lesley Judd and John Coll report from the recent Which? Computer show in Birmingham. Producer PATRICK TITLEY Series producer DAVID ALLEN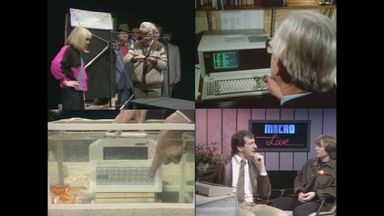 Episode 6
First broadcast: 8th March 1985
Duration 49:18
with lan McNaught-Davis and Lesley Judd. In this, the last programme of the current series, Lesley investigates new applications for the laser disc. Mac challenges a robot at its own game, table tennis. Fred Harris reviews some portable and lap-held computers. And a look at the difficult job of live subtitling... Director TERRY MARSH Series producer DAVID ALLEN