Micro Live
20. Series 3, Episode 20
The weekly look at the world of information technology with Lesley Judd , Fred Harris and Ian McNaught-Davis In the last, extended edition of the series, Micro Live visits the Haymarket Theatre and the world of Alan Turing , the father of modern computing, portrayed by Derek Jacobi in the stageplay Breaking the Code. Turing's computers in the 1940s and 1950s were 'first-generation' machines; now computer scientists are working on the 'fifth generation'. In Scotland the institute named after Turing has a world reputation in artificial intelligence work, but its software products are hardly used in the UK. In California, where seemingly limitless sums are thrown at research projects, 'Chinese temples', brainstorming' and robots for war veterans are the subjects of fifth generation work. Dr Ian Page of Oxford University puts such present and future work in perspective. Studio director TERRY MARSH Producer PETER BRATT Series editor DAVID ALLEN
Clips from this programme

Pre-Titles: Alan Turing (Breaking the Code - Derek Jacobi)
Duration: 00:13
Topics:

Alan Turing (Breaking the Code) Derek Jacobi plays him in "Breaking the Code" ( Enigma) Manchester University for first computer with a stored program) A universal machine and the prediction of Artificial Intelligence (AI)
Duration: 07:46

1st to 5th generation computers and programming : The world's first computer program (Machine Code), 2nd (Assembler), Languages like Fortran (3rd), Late 70s Micros, 4th generation application software, visa for 4th generation machines (?), 5th=Natural language, learn and reason and interpret
Duration: 04:16

The Turing Institute in Glasgow: Artificial Intelligence (AI) research, Dr Peter Mowforth vision systems and robots working co-operatively, funded by industry Expert System package learning (Professor Donald Michie), USA nuclear fuel processing (WRD Enterprises), the brain drain
Duration: 08:26

Chinese temple designer Xerox Parc Windows, mouse, pull-down menus, the first photocopier but what next: PARC brainstorming via screen, having fun is important (cf Google), EuroParc in Cambridge (Ian Page comments re. UK funding for research compared with American).
Duration: 06:50
Topics:
Micro Live - Series 1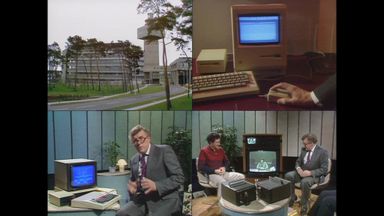 Episode 5
First broadcast: 8th February 1985
Duration 49:25
On the road! This month's programme comes live from the British Telecom Research Laboratory at Martlesham Heath, near Ipswich. Ian McNaught-Davis looks at some of the latest developments in telecommunications, and talks to John Alvey , Chairman of the Alvey Committee and Engineer-in-Chief for BT. American reporter Freff joins in from New York on a new 'teleconference' system, and he has the latest micro news from America. And Lesley Judd and John Coll report from the recent Which? Computer show in Birmingham. Producer PATRICK TITLEY Series producer DAVID ALLEN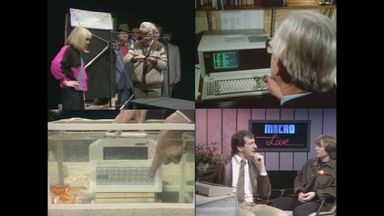 Episode 6
First broadcast: 8th March 1985
Duration 49:18
with lan McNaught-Davis and Lesley Judd. In this, the last programme of the current series, Lesley investigates new applications for the laser disc. Mac challenges a robot at its own game, table tennis. Fred Harris reviews some portable and lap-held computers. And a look at the difficult job of live subtitling... Director TERRY MARSH Series producer DAVID ALLEN