The Computer Programme
3. Talking to a Machine
CHRIS SERLE, IAN MCNAUGHT-DAVIS and GILL NEVILL continue their exploration of the world of information science. The difficulty of communicating with computers is that they are machines and we are people. The common language we share can turn out to be a lot more like English than we might expect. Directors FRANK ASH, MATT BONEY Producer PAUL KRIWACZEK
Clips from this programme

Chris Serle reminds us that when programming a computer we are 'talking to a machine' but in a specific language
Duration: 00:40

A fairground organ depends on metal prongs going through punched holes in a concertina-like program of cards to play its notes. A binary system running a program to do just one thing - play music. A computer is a multipurpose machine
Duration: 03:34

An early Ferranti binary computer uses simple plugs and sockets to hold a program to play music. In earlier times it controlled an ammonia plant.
Duration: 02:40

Mac explains the processes going on inside a computer even if it seems to be doing nothing. For example checking to see if a key has been pressed. Constant repetition of a loop. Changing of the guard is used as an analogy. This is all part of its operating system.
Duration: 03:55

One programming technique involves using groups of commands or 'subroutines' which carry out a complex often needed activity. This is likened to a refrain in music
Duration: 01:48

An exploration of the various different computer languages available. Some - like BASIC - easy to learn but easier to make mistakes and there are many forms of BASIC. PASCAL is a more rigorous language. BASIC (Beginners All-purpose Symbolic Instruction Code) is the language chosen for much of this Project.
Duration: 01:43

Gill Neville looks at a computer controlled lathe programmed to make a complex part and discusses the various procedures it uses to operate.
Duration: 02:46

Mac and Chris Serle discuss procedural programming techniques to control a small industrial robot arm using BASIC on the BBC Micro. The term 'interpreter' is explained.
Duration: 06:03

Credits sequence over a shot of the robot feeding fish in a tank
Duration: 00:46
Topics:
The Computer Programme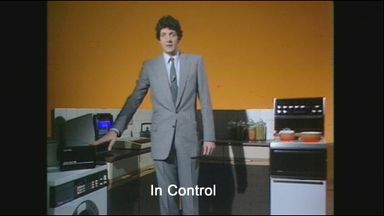 9. In Control
First broadcast: 8th March 1982
Duration 24:34
CHRIS SERLE, IAN MCNAUGHT-DAVIS, GILL NEVILL 9: In Control: By far the greatest number of computers with which we will come into contact in the future will be invisible. They will be the microprocessors built into many of our domestic appliances, replacing many of the mechanical systems that we use today, with greatly improved reliability, flexibility, and at low cost. Directors FRANK ASH, MATT BONEY Producer PAUL KRIWACZEK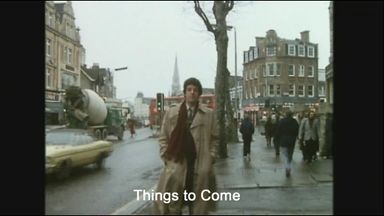 10. Things to Come
First broadcast: 15th March 1982
Duration 24:17
CHRIS SERLE, IAN MCNAUGHT-DAVIS and GILL NEVILL continue their exploration of the world of information science. Things to Come: Information technology has the power to change the face of our society completely by taking over the work of a large majority of the population. But will this be allowed to happen, and which aspects of our economic life are most likely to be affected? Directors MATT BONEY, FRANK ASH Producer PAUL KRIWACZEK