Computers in Control
5. Recognising the Obvious
An introduction to the world of robotics 5: Recognising the Obvious : We see, hear and interpret the real world with ease. For the computer it's not so easy, but some robotic systems can identify objects or voices and act accordingly, and it's possible to mimic these on the home microcomputer. Production DAVID ALLEN and ROBIN MUDGE
Clips from this programme

A prototype spider-like robot from Odetics aimed at working in hazardous conditions can lift a car and move around. It looks clever but it is in fact controlled by a human operator. Machine intelligence has far to go in recognising what we see as obvious.
Duration: 03:25

A Westinghouse factory forging steam turbine blades, using a range of robots working cooperatively and using a vision system to check and make identical blade shapes.
Duration: 02:14

A flexible manufacturing system (FMS) production line for machined parts in a UK factory recognises parts, sometimes using a vision system and allows for batch production
Duration: 05:18

How a vision recognition system works - recognising features and pattern matching to compute what humans do so easily. Analysing an image using rules to isolate an image from background 'noise'.
Duration: 05:02

Using a RAM chip as a crude camera to identify shapes using simple rules
Duration: 01:45

Mac uses a speaker dependent voice recognition which has learned his voice and leaves messages for his stockbroker
Duration: 01:23

Ian Trackman shows how a simple voice recognition system works using a system which can learn and then match word patterns.
Duration: 02:42

Joe Engelberger, father of American Robotics explains how we will need to move to massive parallel processing to be able to recognise the things which humans find so simple.
Duration: 00:58

Binky the studio ventriloquist dummy recognises some words and moves accordingly to end the series.
Duration: 00:33
Computers in Control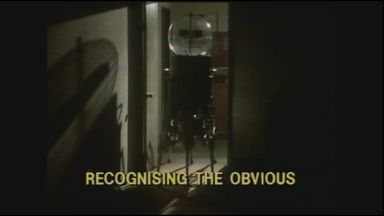 5. Recognising the Obvious
First broadcast: 30th March 1984
Duration 24:36
An introduction to the world of robotics 5: Recognising the Obvious : We see, hear and interpret the real world with ease. For the computer it's not so easy, but some robotic systems can identify objects or voices and act accordingly, and it's possible to mimic these on the home microcomputer. Production DAVID ALLEN and ROBIN MUDGE
Now playing