Software for "Micro Live - Series 1, Episode 4"
This is the BBC Micro software used in the programme. The programs can be run in your browser. Select one and then follow the on-screen instructions.
Return to Micro Live - Series 1, Episode 4 .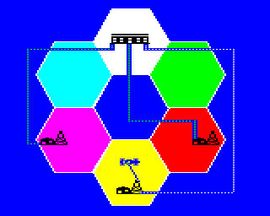 HEX3
Runs an animated graphic that demonstrates how using cells for wireless mobile communication has revolutionalised mobile phone (and mobile data) communications
Instructions
Pressing <Space> progresses you through this graphic that first shows the non-cellular approach to wireless communication, to the cellular approach where frequencies in cells can be re-used for further non-adjacent cells for better mobile connectivity
Featured in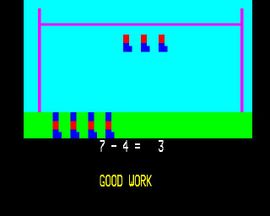 DROP-S
Runs an educational program that tests subtraction skills, aided by graphics of socks on a washing line - Drop Socks!
Instructions
This program provides good on-screen instruction including 'Teacher's Notes'. You start by reading the notes, pressing <Space> and then entering today's date before entering your name for easy to hard testing
Featured in